What Rugs for What Room?
Beside the obvious questions of color and style to be decided by an individual's personal taste, to determine what type of rug or what size rug is needed for a given location, you should take several factors into consideration.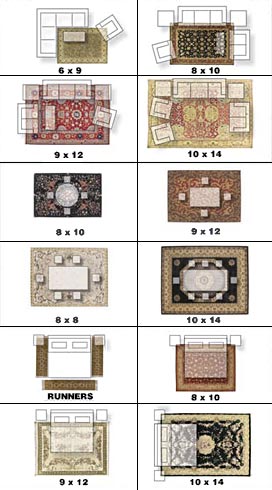 Of course, price will play an important role in that decision. Within your budgetary parameters, however, the type of construction and quality you choose will be a key factor in ensuring that you will be happy with your new purchase. Putting a light colored needlepoint runner in a foyer or hallway is not usually recommended. Why? Even top quality needlepoints are not made to stand up to high traffic, especially in entry areas where dirt and salt can damage the rug. Conversely, a beautiful soumak flatweave, which has a much denser construction to resist dirt and traffic, could be perfect for such an application. The needlepoint can be a wonderful addition to a bedroom room, a "barefoot" area, where the soumak with its rougher texture might be less desirable from a comfort standpoint. These are just two examples of how placement of different constructions should be taken into consideration.
Another factor you will certainly want to consider is size. From small scatter rugs to palatial carpets, both the actual room size and the specific decorating scheme are critical in determining the size of the rug best suited to your needs. Dining room rugs need to be sized for the placement of the chairs and the table as well as for the absolute measurements of the room. Take into account how much of the pattern will be hidden or obscured under the table. Obviously, a center medallion design would not be the ideal choice for this purpose.
Living rooms can have a wide array of layouts and elements. Sofas, chairs. occasional tables, and lighting fixtures can be arranged in a single unified configuration or in separate seating or "conversation" areas. In either case, your rugs should play a key role in focussing and enhancing the placement of your other furnishings. In effect, they should function as the "foundation" of your design plan for any area in which they are used. The possibilities of decorating with rugs are endless, and with the Nourison family of collections, you can be assured of the very best in color, design, and quality for every room in your home.
From: http://www.nourison.com/NU/3what.asp